2021 Confirmation classes using 'Zoom' – 'Refresh, revisit, reflect'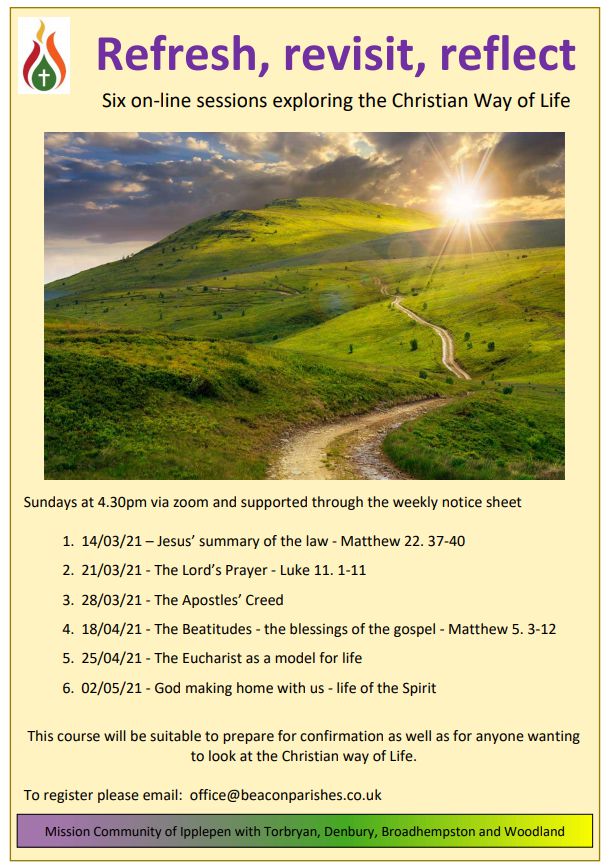 Click on image for the poster
There is no fee for attending these classes and being confirmed.
To join the zoom confirmation classes, please complete the form below.
Confirmation Application Form
Beacon_Parishes_Confirmation_Application_Form
(Note: This form is a 'fillable form' if opened on a PC or android device)
Please complete the above form and email your completed form to both

Alternatively, you can post it to the Church Office:
Church Office, St Andrew's Church Hall Church Path Ipplepen, TQ12 5RZ   
Reverend Andrew Down will then contact you to further discuss Confirmation classes with you.
(Please read all the 'Confirmation Information' within the two links below before sending your completed form to us)
Confirmation Information
Please see useful information provided by the Church of England and also the Diocese of Exeter:
https://www.churchofengland.org/life-events/confirmation
https://exeter.anglican.org/christian-faith/confirmation/
Photos from Confirmation services at Broadhempston and Ipplepen. Click on a photo for a larger version):