Come and see us in action on Sunday mornings at 10.00am or when we practise on Wednesdays from 7.30-9.00pm (from September to April).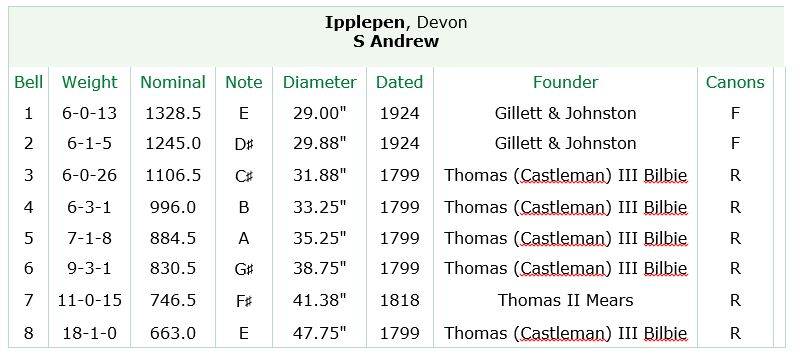 Ipplepen has a fine ring of 8 bells in "E". They are heavier than most in the area, with the Tenor weighing about 18 ¼ cwt.
Originally there were six bells, cast in 1799 by Bilbie of Cullompton using metal from much older bells. The 1799 treble carries the legend "When I call Follow all" but this is now slightly inaccurate as two lighter bells were added in front of it in 1924 to make the ring of eight. They were all re-hung in a steel frame in 1950.
The ringing chamber is a third of the way up the tower via a spiral staircase, but there is still a long draft to the bells, each having about 66 feet of rope.
Ipplepen also has a complete working set of Ellacombe Chimes, so that the bells can be chimed, and tunes played, from ground floor level.
Devon has more rings of bells than any other County and together with Cornwall most of these towers use call changes rather than the "Method" ringing which the rest of the UK has adopted. Ipplepen is no exception, and call changes are always used although "Method" ringers are of course always welcome in the tower!The main Sunday Service in Ipplepen is 11am, and ringing starts at 10am. Practice nights are Wednesdays, from 7-30 to 9pm from September to April. We have not missed ringing on a Sunday morning since 1950 , except when the ringers went on strike many years ago for a week – when they made headlines in the national daily papers!
Ipplepen is a joint benefice with Torbryan, although the church there is now in the care of the Church Conservation Trust. Torbryan has a unique set of four pre-Reformation bells. When Torbryan has a service a few times a year, Ipplepen ringers do their bit.