The Covid-19 virus means that our churches are closed. See below for details about on-line and broadcast services. Church and community life still goes on!
Services on-line from the Beacon Mission Community
There are services and reflections from Andrew on YouTube and these can be found at: Beacon Parishes – Services on-line
The order of service for communion is: Simple Communion
The orders of service for Morning and Evening Prayer can be found at: Simple Acts of Worship
The readings and reflections are:
Sunday 29th March 2020 Readings and Reflection
Readings and Reflection for Mothering Sunday 22nd March 2020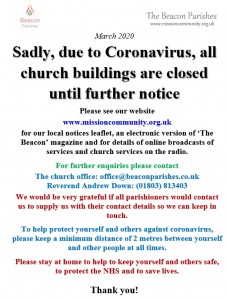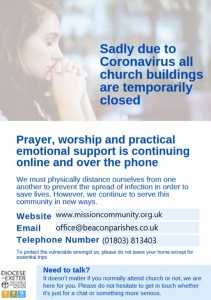 Please read  the links below, other pages in the website and the latest issue of The Beacon for more information.
Help others,

stay safe
….………………..
National Day of Prayer and Action
The National Day of Prayer and Action was on Sunday 22nd March. The form of prayer is also suitable for use throughout the Covid-19 epidemic. Go to Prayers-for-National-Day-of-Prayer-for-Coronavirus-
Mothering Sunday Services on-line
Andrew celebrated communion at 11am on Mothering Sunday on behalf of the Beacon Parishes Mission Community but the public were not allowed to attend. The Readings and Reflection for this service were:
Readings and Reflection for Mothering Sunday 22nd March 2020
 There were several services 'on-line' on Mothering Sunday from various churches, which can still be viewed on-line.
A special service with the Archbishop of Canterbury. Go to:
Online church | The Church of England
 A special service with the Bishop of Crediton, and other churches. Go to:
Churches celebrating Mothering Sunday online – Diocese of Exeter
This service with Bishop Jackie in Exeter Cathedral went out at 10am. The film also features several choristers from Exeter Cathedral Choir and will be broadcast on the Dicoese of Exeter Youtube, Facebook, Instagram and Twitter social media channels on Sunday at 1000.  Here is the YouTube channel link: CofEDevon
Digital Services
BBC Radio Devon Sunday Service  (0630 Sunday and then on BBC Sounds) and daily Pause for Thought (0635 weekdays, 0735 weekends) Available here
The Diocese of Exeter will be broadcasting a weekly Sunday 'Prayer and Worship' and a daily Pause and Pray video via our Youtube and Facebook channels. We will also broadcast a 'service' on Maundy Thursday and Good Friday. View services here
Services to use at home – anyday
The Exeter Diocese has prepared two simple acts of worship for people to use at home.
These two simple acts of worship, and some selected prayers, have been created for you if you are unable to attend church. Christians across the world say Morning and Evening Worship daily, so you will be taking part in these acts of worship in company with many others!  If you are well enough, why not pause for a moment in the morning and evening to spend a few moments with God. Go to:
The Beacon
For the current issue of The Beacon magazine, follow the link or click on image below: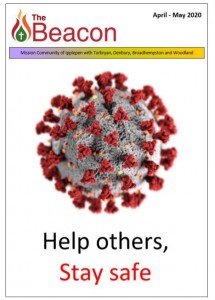 The Beacon April – May 2020
Weekly Notices
Notice sheets will replace our usual weekly pew sheets whilst our churches remain temporarily closed due to coronavirus. 
Please see the main menu tab 'Weekly Notice Sheets' at the top of this page.
Coronavirus Covid-19
The Diocese of Exeter has put out the following information:
FAQs for Church Leaders regarding the latest coronavirus guidance
There are many questions you may have about funerals, weddings, pastoral care for clergy, PCC meetings, bell-ringing and so on. Please see our FAQs web-page for guidance on all these issues and more.
 Resources for Churches during the coronavirus outbreak
The Church is not shutting, it is just doing things differently. There are plenty of resources available including a poster for your church door, advice on live streaming, reaching out to the isolated and downloadable prayers.See the resources here 
 Update on Safeguarding Training during this time
Following consultation with the National Safeguarding Team (NST), we have been advised of the updated position on Safeguarding Training requirements in light of the current isolation and social distancing advice to tackle the Covid-19 virus. Read the guidance here.
Andrew's article in The Beacon
Video message from the Bishop of Exeter
Doing church differently but not shutting up shop
https://exeter.anglican.org/doing-church-differently-but-not-shutting-up-shop/
Business as UNusual
https://exeter.anglican.org/business-as-unusual/
Coronavirus Advice – 4th March 2020
Ad Clerum – Coronavirus Advice – 4th March 2020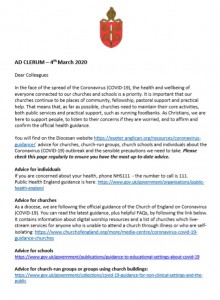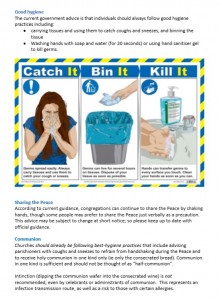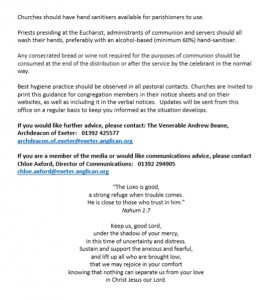 Safeguarding
The Beacon Parishes Safeguarding Policy can be found on the following link:
If you have a concern about the safety of someone or the actions of someone working with children or vulnerable adults, please speak to someone:
The Beacon Mission Community Safeguarding Representative is The Rector Rev Andrew Down. Contact number 01803 813403
Our Local Advocate for Children and Adults who may be at risk is Ann Holroyd Contact number 01803 411373
The Diocesan Safeguarding Team's contact details can be obtained on the following link – https://exeter.anglican.org/resources/safeguarding/safeguarding-team/
If you are a young person and you feel unhappy about something happening to you, you can call Childline on 0800 11 11