Welcome to our website. It contains a wide range of information about our churches and activities, including Weekly Notices, information on upcoming Services and Events, The Beacon magazine and a whole host of other topics.  Have a look through the menu!
On this page are some current highlights:
Taize service recording       
Rachel Belringer recorded the recent Taize Service. Dr Tom's talk begins at about 20 minutes in.
Special speakers in October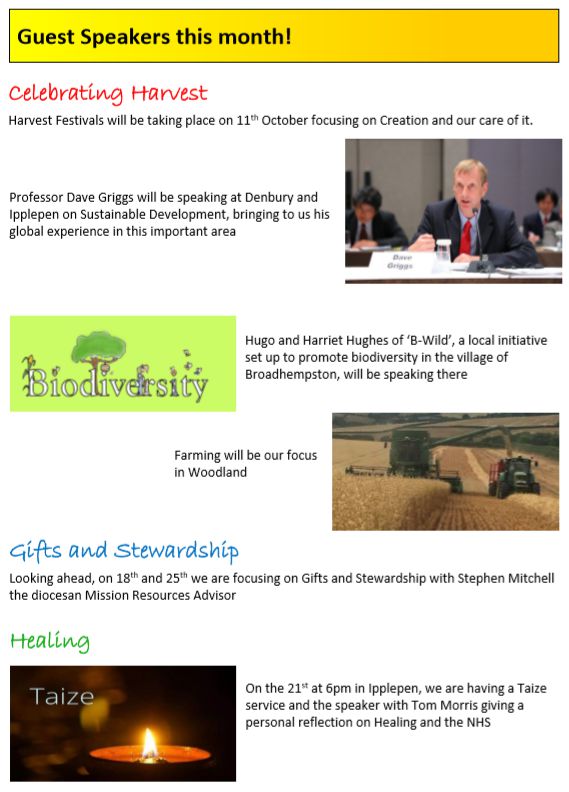 How to Grow?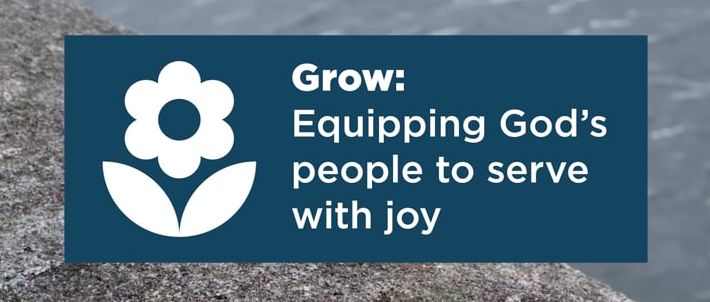 Grow lay learning courses, from the Diocese of Exeter, are designed to equip God's people in Devon to serve with joy. They are a series of tailored courses created by Lay Discipleship Project Manager, Jon Curtis, to help people develop in roles they already fulfil, for example leading worship, doing the finances, preaching, administration, pastoral care, children and youth work and more.
They are also a good way of exploring NEW roles. They will be taught online for the time being. Whatever stage you are at on your Christian journey, Grow aims to help you fulfil your God-given calling.
Have and look at the Grow video.
Course dates are:
Autumn 2020
• Pastoral Care (4 evenings online 15/10, 22/10, 5/11, 12/11)
• Leading Worship (5 evenings online 3/11, 10/11, 17/11, 1/12, 8/12) – requires FiCM or equivalent
• Small Group Leadership (2 evenings online 3/12, 10/12)
• Administration (2 evenings online 19/11, 26/11)
January – March 2021
• Children's work
• Stewardship
• Preaching – requires FiCM or equivalent
April – July 2021
• Pioneering – requires FiCM or equivalent
• Youth work
• Evangelism and Mission – requires FiCM or equivalent
To find out more and sign-up go to: https://exeter.anglican.org/ministry/lay-ministry/lay-learning/ 
The Beacon
For the current issue of The Beacon magazine, click on the image: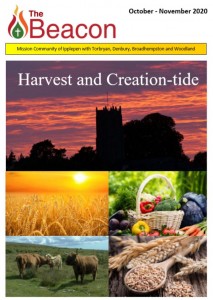 Pray for Lebanon                             

Please find a link to a short film to aid people's prayer for Lebanon at this time – thank you Rachel for the song.
Facebook pages 
We now have Facebook pages for three of our parishes. Please have a look at them and recommend to your contacts:
Ipplepen:     www.facebook.com/StAndrewsIpplepen
Denbury:     www.facebook.com/denburyworship
Broadhempston:   www.facebook.com/Broad20/
Safeguarding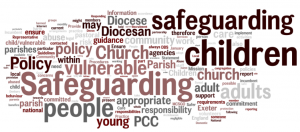 Update on Safeguarding Training during this time
Following consultation with the National Safeguarding Team (NST), we have been advised of the updated position on Safeguarding Training requirements in light of the current isolation and social distancing advice to tackle the Covid-19 virus. Read the guidance here.
The Beacon Parishes Safeguarding Policy can be found on the following link: Safeguarding Policy 2019
If you have a concern about the safety of someone or the actions of someone working with children or vulnerable adults, please speak to someone:
The Beacon Mission Community Safeguarding Representative is The Rector Rev Andrew Down. Contact number 01803 813403
Our Local Advocate for Children and Adults who may be at risk is Ann Holroyd. Contact number 01803 411373
The Diocesan Safeguarding Team's contact details can be obtained on the following link – https://exeter.anglican.org/resources/safeguarding/safeguarding-team/
If you are a young person and you feel unhappy about something happening to you, you can call Childline on 0800 11 11