Funeral Services, Memorial Services and Interment of Ashes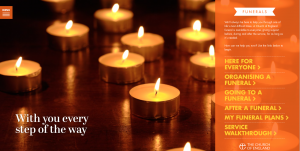 Reverend Andrew Down is experienced in helping bereaved families dealing with the death and loss of a loved one.  Andrew will be able to help you arrange an appropriate funeral service.
The Church of England has issued this useful information on the first steps to arranging a funeral:
www.churchofengland.org/life-events/funerals/arranging-funeral/first-steps-arranging-funeral
The above link explains that the two immediate things that need to be done are:
1. To register the death
2 To meet with a Funeral Director of your choice
Further useful information is available on the Church of England website:   www.churchofengland.org/life-events/funerals
If you decide you would like the service for your loved one to take place in one of our beautiful churches or churchyards, your funeral director will discuss your funeral service plans with Reverend Andrew Down and Andrew will then contact you to further discuss your plans with you and to help guide you through this time of bereavement.
If you would like to speak to Andrew at any time during your decisions and arrangements, please call him on (01803) 813403
Fee Information for Bereaved Families
BP Funeral Fees 2021 – For Bereaved Families
2021 Parochial Fee Information
Please note:
The above fees do not include Funeral Directors' fees.   The relevant Beacon Parishes fees will be included in your chosen Funeral Director's fees and the above fees will be paid to the Beacon Parishes by your chosen Funeral Director.
Fee Information for the Funeral Directors
BP Funeral Fees 2021 – For Funeral Directors
2021 Parochial Fee Information
Please Note:
The Beacon Parishes will send individual fee confirmations for each funeral to the Funeral Directors.