Easter Services
Lessons From the Elements During Advent
Lessons from the elements during Advent – Reflections_
Christian Aid Week 2021
Service at St. Andrew's on Sunday 9th June and poster display now in church. Click here for the poster display.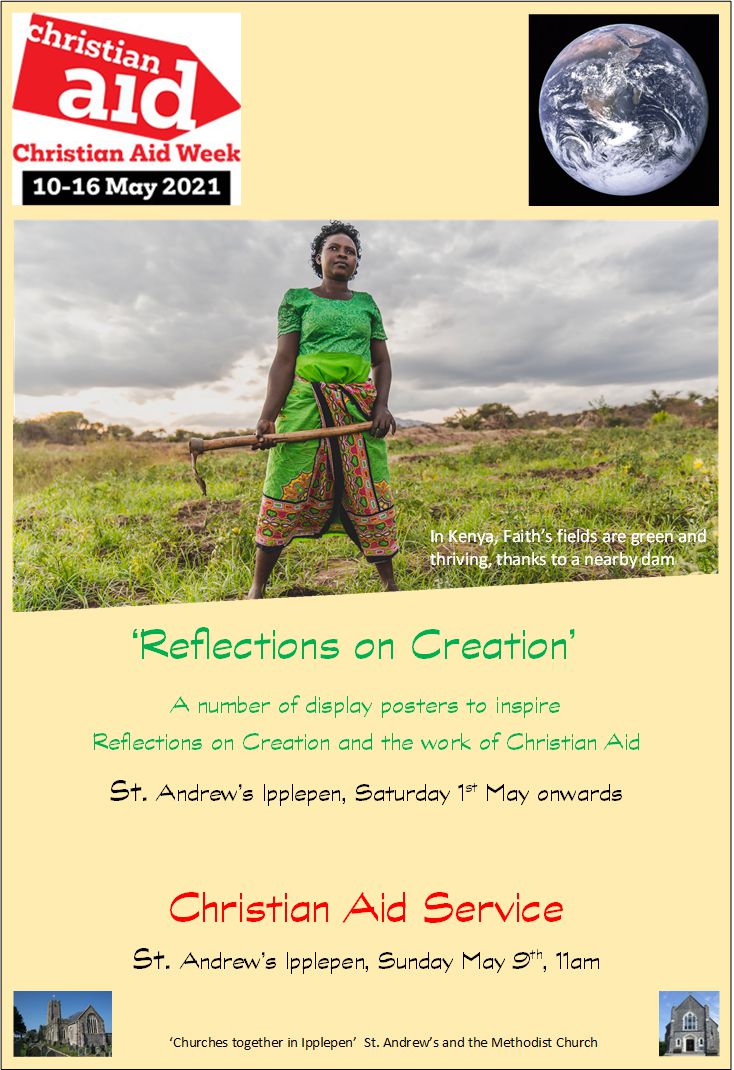 Pentecost
In Ipplepen, the service on Pentecost (May 23rd) will be joint with the Methodist Church (Churches Together in Ipplepen)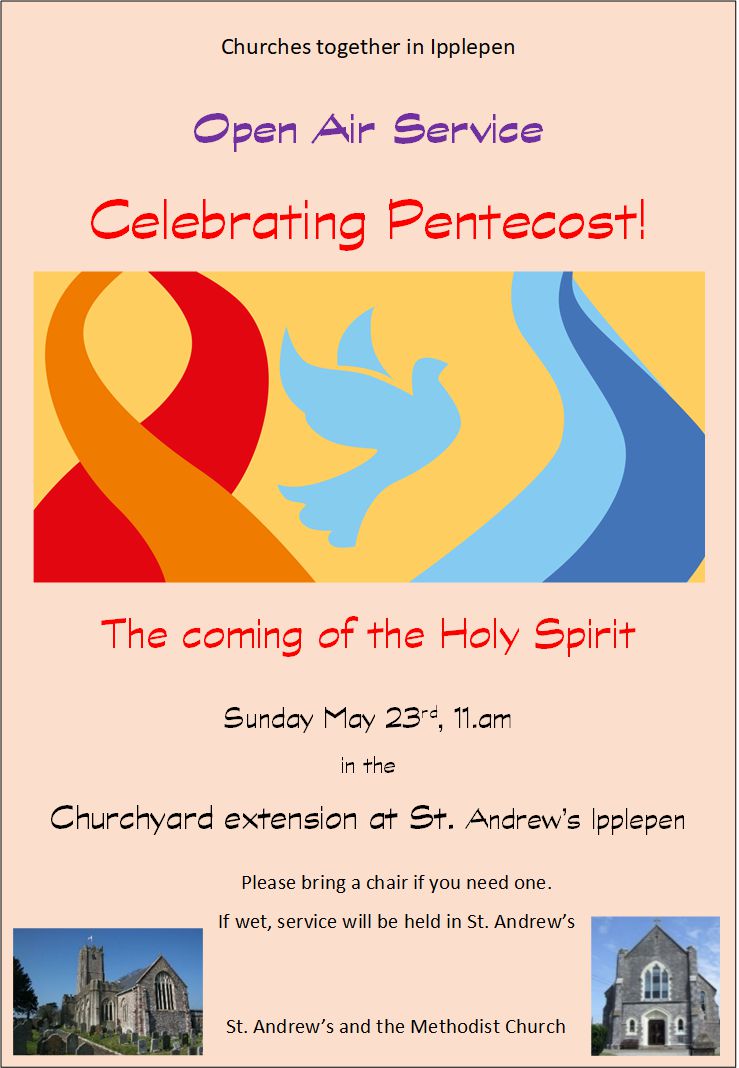 Informal Family Friendly Service
Next Sunday, April 25th, Churches Together in Ipplepen are holding an Informal Family Friendly Service, with the theme "The Good Shepherd"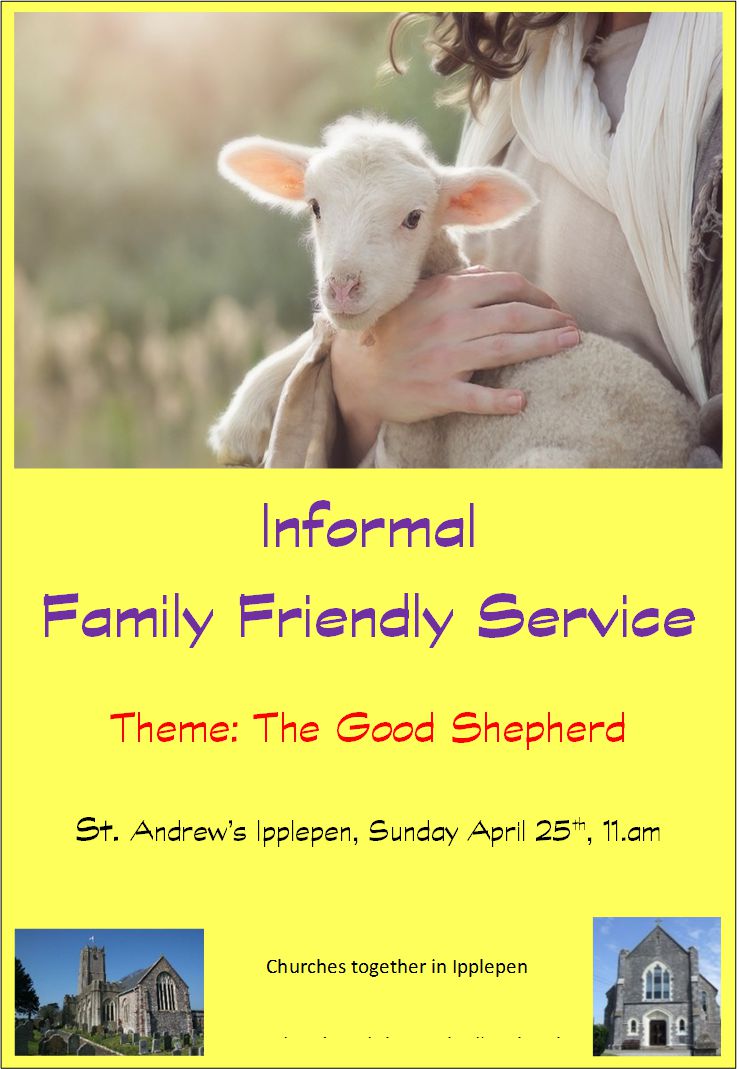 Broadhempston Easter Journey

23rd March National Day of Reflection 
On the anniversary of the first national lockdown we pause to reflect
9am – Morning Prayer via zoom – rev.andrewdown@gmail.com for a link.
10.15am – Holy Communion – St Andrew's Ipplepen
11.45am – Live Act of Reflection with Bishop Robert on the Diocese of Exeter Facebook page
12noon – Midday prayer – St. Mary's, Denbury
Churches open for private prayer and reflection
St. Andrew's Ipplepen, 9am -5pm
St. Mary's Denbury, 10 – 5pm
St. Peter and St. Paul's Broadhempston 9am -4pm
Mothering Sunday – 14th March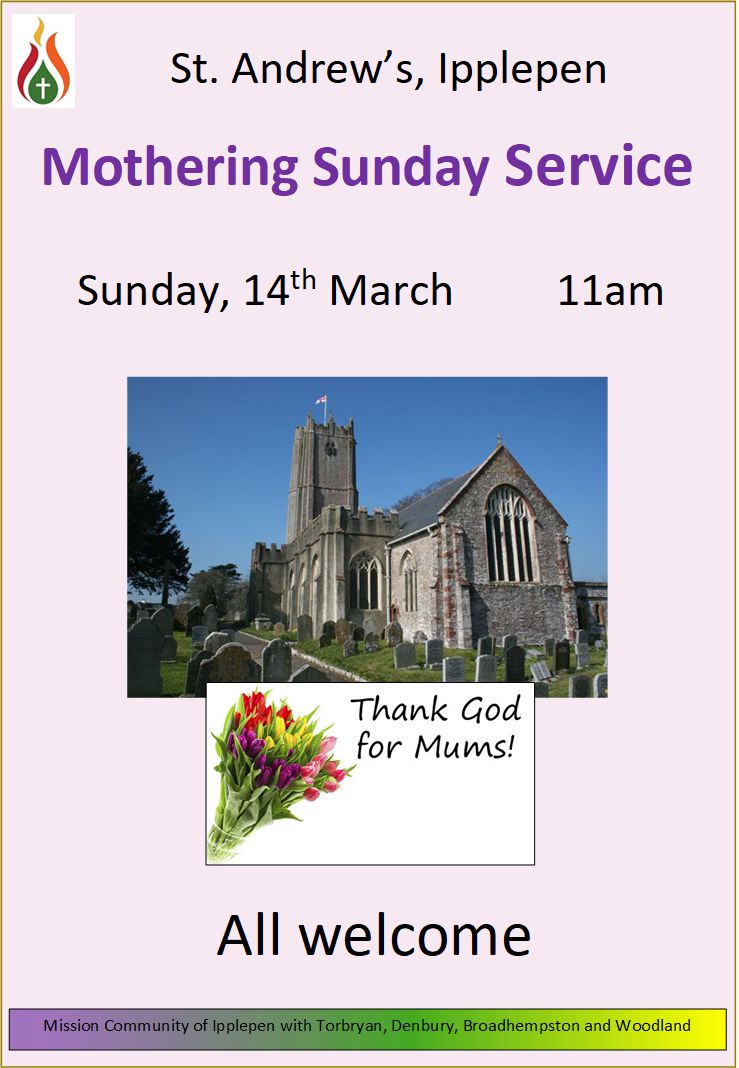 Christmas message from Andrew
Here is Andrew's Christmas message  video and a Reflection to go with it
Denbury's Virtual Carol Service
Is here!! https://youtu.be/dwQjwKHvcEk
It will be launched as Premiere at 4pm on this Sunday, 20th Dec (approx 35 mins long)
There will be a countdown to the launch
And a "live chat" so we can watch it together as a community.
Do let us know if you're watching it "live"!!
Available for viewing any time after that!
THE VIDEO FEATURES:
Denbury Christmas Choir
Congregational carols "led" by the Mute-Yule-All choir (muted!). So you can sing too!
Readings and poems
Welcome and final blessing from Andrew
Many thanks to CHRIS EASTMAN who suggested the idea, then coached, provided music and encouragement – and finally did the magic of sticking it all together! Brilliant!
Broadhempston Christmas specials!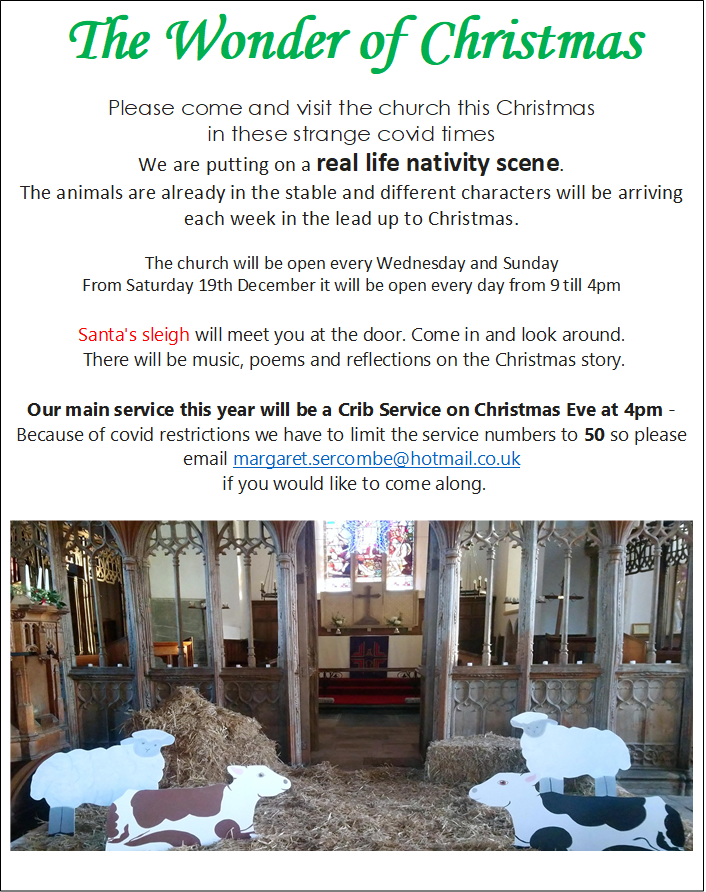 Denbury Crib Service 2020!
 We've gone online for this in 2020, as we are not allowed to either sing or mill about like we normally do at the usual Crib Service gatherings!
So, here is a 15minute video Tess and I have made, for you to share with your family. Not too many bloopers, and I actually managed to do the "Blue Peter Make" without it going horribly wrong! (AND I got to say "Here's one I made earlier….").
The "make" is a Star. We are inviting children to bring them into the Church any time from Monday 21st to hang it front of the Crib. Tess and I will be in the Church to receive visitors to the Crib between 2-4pm on Christmas Eve, if you can make it then. It would be lovely to see you. Or feel free to hang your Star in your window, to let passers by know it's Christmas!
Over Christmas there'll be a Family Service at 10am on Christmas Day, and a Midnight Mass for the grown-ups at 11pm, Christmas Eve. The Carol Service has also gone online this year. The link will be sent out on social media and email, soon!
We hope you enjoy our short video. Here's hoping we can do it "Live" next year!
MERRY CHRISTMAS!!
Ipplepen: Carols in the Village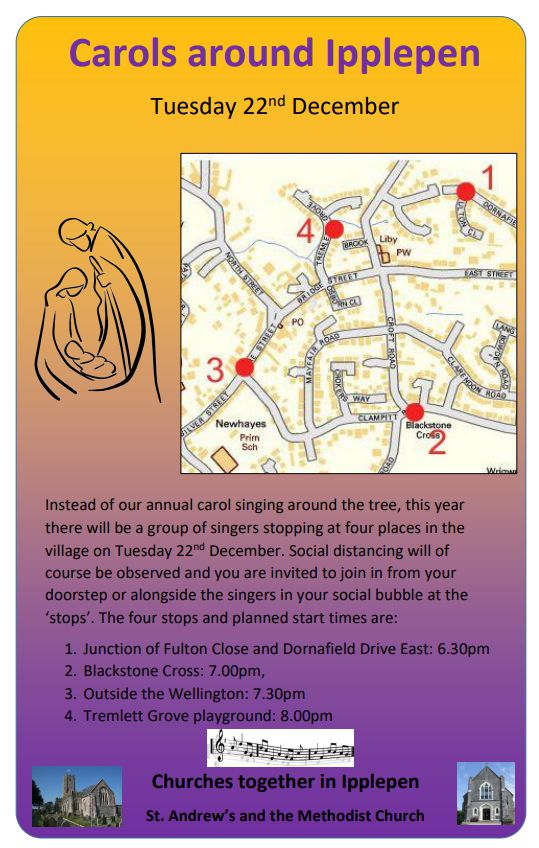 Ipplepen: Journey to the Crib
We can't hold the Crib Service his year, so instead 'Churches together in Ipplepen' (St. Andrew's and the Methodist Church) are setting up a Christmas Trail in St. Andrew's on Christmas Eve from 3:30 until 6:30pm, and it will be an ideal way for families, particularly those with young children, to reflect on the first Christmas. On the trail there will be displays representing different parts of the Christmas story, focussing on the journeys Mary and Joseph, the shepherds and the wise men had to make to see Jesus lying in the manager. This self-guiding event will be suitable for all the family and there will be an accompanying booklet and a children's activity sheet to use as people proceed around the trail. We anticipate the trail taking no more than half an hour. To add to the atmosphere the church will be candle-lit and Christmas carols will be playing.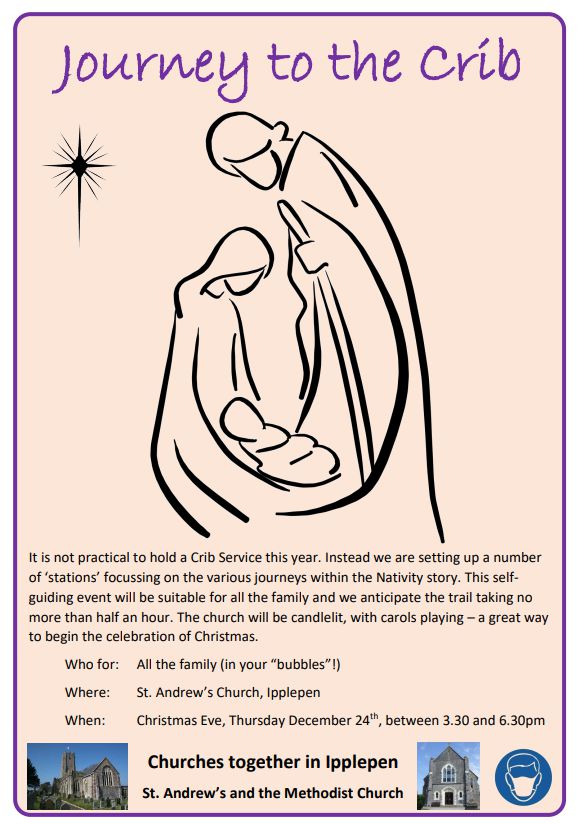 Christmas Services
The following are the Christmas Services in the Mission Community, in addition to the normal services on 13th and 20th December. For these see Weekly Notices for details.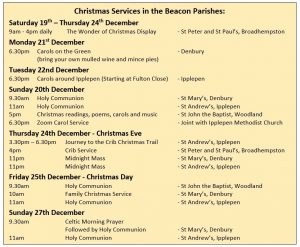 Special speakers in October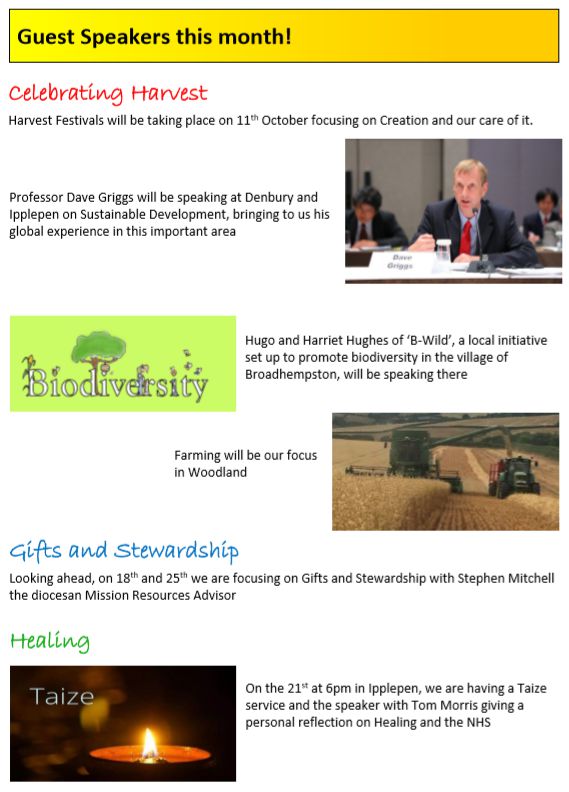 Gift Day – Ipplepen Saturday 17th October at 10am-12noon

Morning Prayer during the week – for Harvest
During Morning Prayer rom 5-15th October we used a resource especially written for Harvest time, please follow this link to view and download to your phone or tablet if you wish. The pages for each day were:
Woodland Days 1 and 5
Ipplepen Days 2 and 6
Broadhempston Days 3 and 7
Denbury Days 4 and 8
National Day of Prayer and Action
The National Day of Prayer and Action was on Sunday 22nd March. The form of prayer is also suitable for use throughout the Covid-19 epidemic. Go to Prayers-for-National-Day-of-Prayer-for-Coronavirus-
 Services on-line from the Beacon Mission Community
There are services and reflections from Andrew on YouTube and these can be found at: Beacon Parishes – Services on-line
The order of service for communion is: Simple Communion
The orders of service for Morning and Evening Prayer can be found at: Simple Acts of Worship
Rev'd Andrew Down's YouTube Channel of Services and Reflections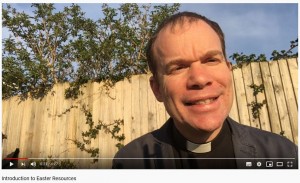 Please click on this link:  Beacon Parishes – Services on-line
Live and recorded services from around the Exeter Diocese
The Diocese of Exeter will be broadcasting a variety of services and reflections via their Youtube and Facebook channels:
https://exeter.anglican.org/resources/worship/sunday-services-to-watch-online/
National Day of Prayer and Action
The National Day of Prayer and Action was on Sunday 22nd March. The form of prayer is also suitable for use throughout the Covid-19 epidemic. Go to Prayers-for-National-Day-of-Prayer-for-Coronavirus-
Coronavirus Covid-19
The Diocese of Exeter has put out the following information:
FAQs for Church Leaders regarding the latest coronavirus guidance
There are many questions you may have about funerals, weddings, pastoral care for clergy, PCC meetings, bell-ringing and so on. Please see our FAQs web-page for guidance on all these issues and more.
 Resources for Churches during the coronavirus outbreak
The Church is not shutting, it is just doing things differently. There are plenty of resources available including a poster for your church door, advice on live streaming, reaching out to the isolated and downloadable prayers.See the resources here 
 Update on Safeguarding Training during this time
Following consultation with the National Safeguarding Team (NST), we have been advised of the updated position on Safeguarding Training requirements in light of the current isolation and social distancing advice to tackle the Covid-19 virus. Read the guidance here.
Video message from the Bishop of Exeter
Doing church differently but not shutting up shop
https://exeter.anglican.org/doing-church-differently-but-not-shutting-up-shop/
Business as UNusual
https://exeter.anglican.org/business-as-unusual/
Coronavirus Advice – 4th March 2020
Ad Clerum – Coronavirus Advice – 4th March 2020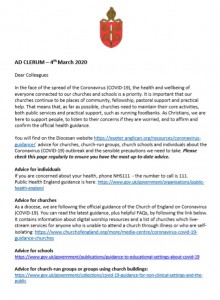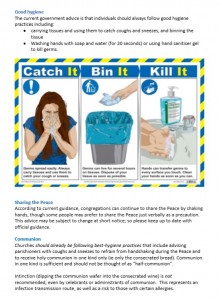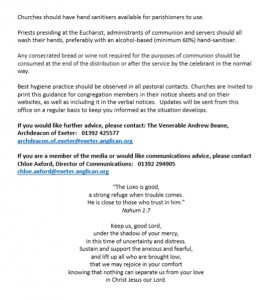 Mothering Sunday Services on-line
Andrew celebrated communion at 11am on Mothering Sunday on behalf of the Beacon Parishes Mission Community but this could not be attended by the public. The Readings and Reflection for this service were:
Readings and Reflection for Mothering Sunday 22nd March 2020
There were several services 'on-line' on Mothering Sunday from various churches, which can still be viewed on-line.
A special service with the Archbishop of Canterbury. Go to:
Online church | The Church of England
A special service with the Bishop of Crediton, and other churches. Go to:
Churches celebrating Mothering Sunday online – Diocese of Exeter
This service with Bishop Jackie in Exeter Cathedral went out at 10am. The film also features several choristers from Exeter Cathedral Choir and will be broadcast on the Dicoese of Exeter Youtube, Facebook, Instagram and Twitter social media channels on Sunday at 1000.  Here is the YouTube channel link: CofEDevon