The church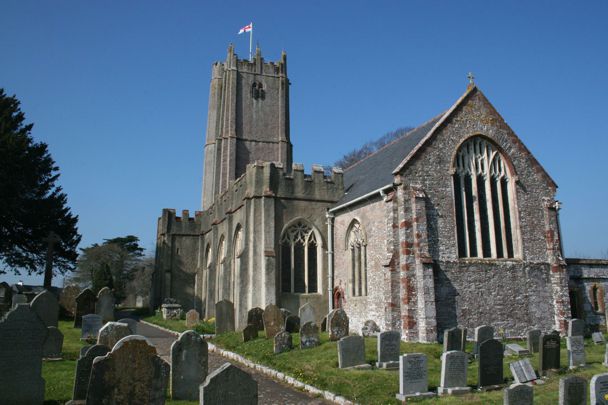 View from the tower (click on the thumbnail):

St Andrew's Church is highly visible at the centre of the village and for many miles around, especially at night when the tower is floodlit (by voluntary donations). It is a large building mostly dating from about 1450, and the large number of clear glass windows give it a "light and airy" feeling during the day. It holds up to 240 people. The building is in good condition for its age and there are no outstanding works of repair other than day to day maintenance.
There is a modernised Church Hall adjacent to St Andrew's, regularly hired by village organisations and used by the church for social and fund raising activities. The kitchen was recently refurbished to a high standard. The parish office is also based in the church hall. Solar panels were installed in 2011 to take benefit of "feed in tariff" income.
Other Churches in Ipplepen
Ipplepen also has a Methodist church, and St Andrew's has close links with their members, and with Roman Catholic residents in the village.
The Church is also fortunate in having generous support from many volunteers over a wide range of activities including: hospitality group; help at Messy Church; 'locker uppers'; cleaners; flower arrangers; choir; bell ringers; drivers to church; vestry carers; servers; chalice administrators; fabric working party; and many others.
There is an active PCC plus a number of groups for various topics. Membership of these groups is not restricted to PCC members.