Up to date details of forthcoming services can be found in the Weekly Notices and The Beacon magazine.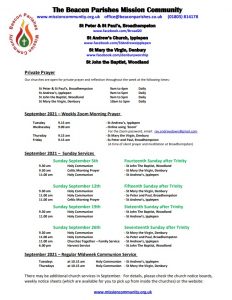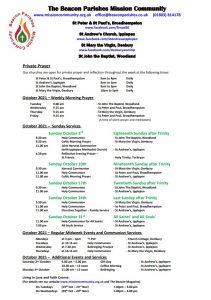 Pentecost
In Ipplepen, the service on Pentecost (May 23rd) will be joint with the Methodist Church (Churches Together in Ipplepen)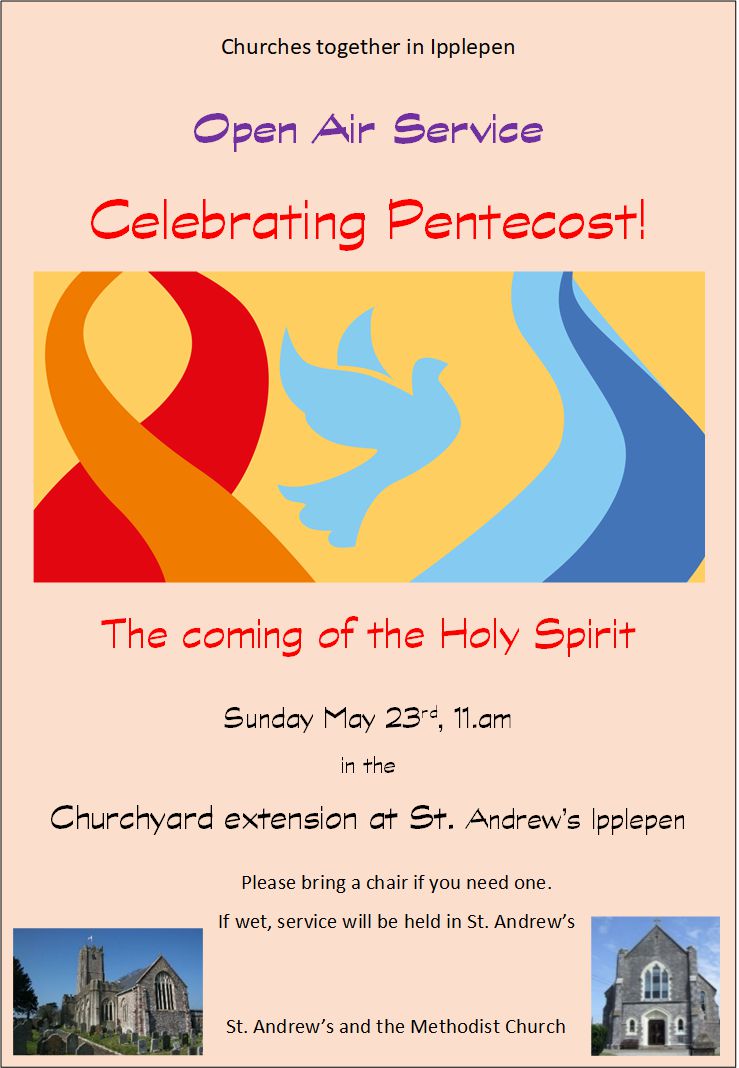 Services in our parishes
Beacon Mission Community Services in Lockdown Update (as of 13th Jan 2021)
The Government has recognised the vital role Churches play in the spiritual and mental health of the nation. And with Public Health England linking only 47 Covid cases, in total, to places of worship, church buildings are permitted to continue to be open  for private prayer and communal worship.
That said, the churchwardens have thought long and hard about what to do in each parish.  Whilst staying under review at the current time we are offering the following
 Services via zoom
Each Sunday we will offer a service via zoom (see notice sheets for details)
During the week we will hold morning prayer Monday – Thursday at 9am via zoom
 Communion
Each Sunday we will have a short said communion service alternating between Denbury and Ipplepen (see notice sheet for details)
During the week we will continue (for the time being) to have our midweek communions on a Tuesday at Ipplepen and Thursday at Denbury at the revised time of 1015am
We will be reviewing arrangements regularly so please look at the church notice sheet , boards, Facebook pages and website for up to date information in this rapidly changing situation.
We have reviewed our Covid precautions to ensure that our buildings and any physical services are COVID secure, especially procedures designed to avoid mingling before and after physical services. Services themselves have been pared right back to a simpler, shorter format.
Written materials
– In addition to services we are producing weekly written reflections on the Sundays readings via our notice sheet and are using our Facebook pages to offer further thoughts and reflections during the week.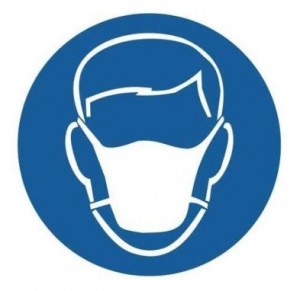 The wearing of face coverings during services in church is required
Let us all show mutual respect.
Morning Prayer during the week
During the week we will hold morning prayer Monday – Thursday at 9am via zoom
Andrew and Hillarie have put together a short video giving information and a guide of what to expect during Morning Prayer. Here is a link to view it: Morning Prayer 
Services to use at home – anyday
The Exeter Diocese has prepared two simple acts of worship for people to use at home.
These two simple acts of worship, and some selected prayers, have been created for you if you are unable to attend church. Christians across the world say Morning and Evening Worship daily, so you will be taking part in these acts of worship in company with many others!  Why not pause for a moment in the morning and evening to spend a few moments with God. Go to:   Simple Acts of Worship